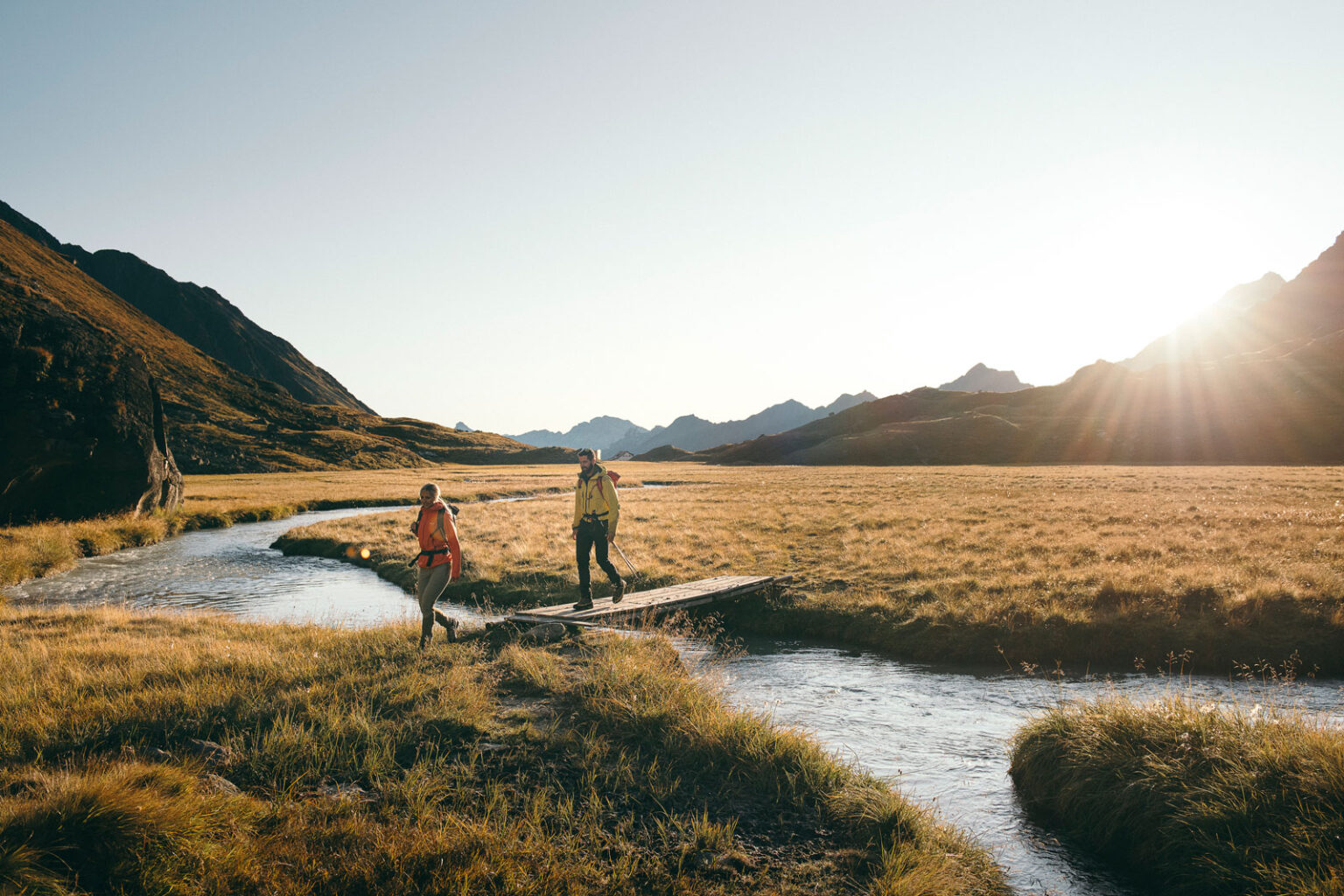 Splendid colors and nature experiences
In autumn, when the leaves change color, numerous hiking trails and panoramic paths invite you to explore the magnificent landscape. Enjoy the mild temperatures, the shimmering golden light, and the tranquility of autumnal nature.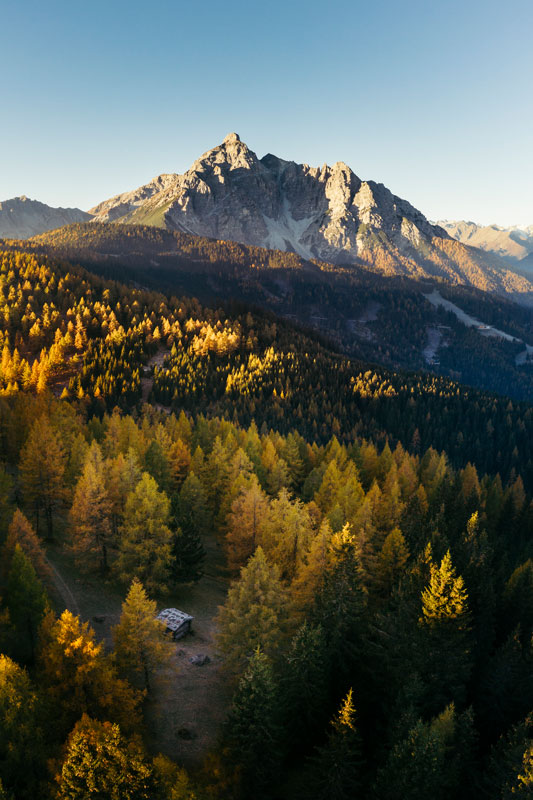 Unspoiled natural sites and the "WildeWasserWeg" wild water trail
Experience the magical world of the Stubai Valley and discover breathtaking natural sites. We particularly recommend the "WildeWasserWeg" wild water trail, where you can experience unique natural phenomena up close.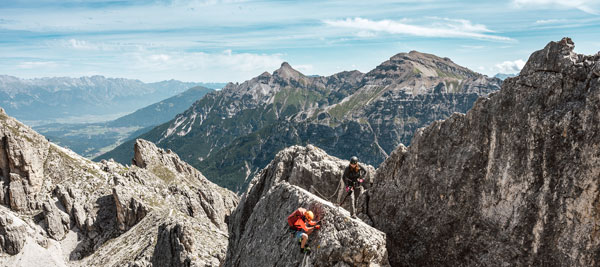 For climbing enthusiasts, there are several via ferratas, climbing parks, and high-rope courses in the Stubai Valley. Two highlights are the long and challenging Ochsenwand via ferrata in the Schlicker Kalkkögeln and the Elfer via ferrata with its impressive views. The high-rope course in Fulpmes is easier to tackle and offers fun for the whole family.
Hiking and Nordic walking
What could be better than exploring the Stubai Valley while running in the fresh mountain air surrounded by breathtaking nature? From flat trails along the entire valley to challenging high-altitude running routes, the Stubai Valley offers a diverse range of routes.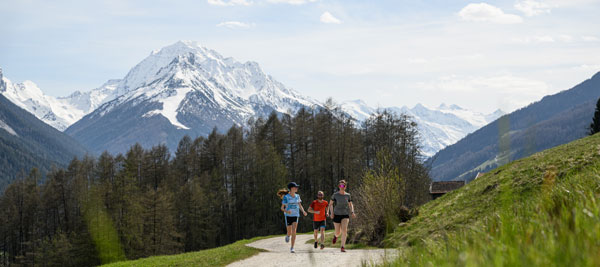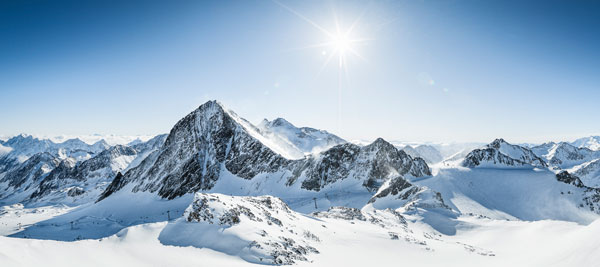 The exciting adventure of glacier skiing in the Stubai Valley, even in the fall! Enjoy the first snowflakes on the majestic glaciers as you zoom down the slopes. The Stubai Valley offers you the opportunity to start the ski season early and enjoy the fresh alpine air and breathtaking views of the snow-covered peaks.
Conquer the wild waters of the Stubai Valley on an exciting rafting adventure! Paddle through lively rapids, feel the thrill of rushing water, and enjoy the spectacular natural backdrop of the Tyrolean Alps. Whether you are a beginner or an experienced rafter, the Stubai Valley offers breathtaking rivers and unforgettable action.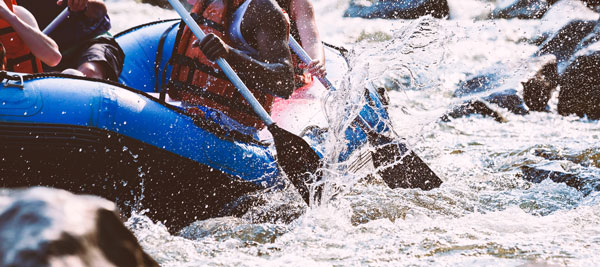 Valid from May 17 to November 3, 2024
We are a partner company of the Stubai Super Card. For you as our guests, this means that you can enjoy a myriad of services and benefits from the day you arrive (and even on the day you leave). You can obtain the card free of charge directly from us at Hotel Brugger.
Included services:
– Free use of several cable cars: Stubai Gletscherbahn, Serlesbahn, Bergbahn Schlick 2000, Elferbahn (one ascent and descent per day)
– Free use of the Innsbruck public transport buses (IVB) between Mutterberg and Innsbruck
– Free use of the Stubai Valley tram for Fulpmes–Innsbruck–Fulpmes
– Free travel voucher from Innsbruck central station to the Stubai Valley for the Stubai Valley tram and Stubai Valley bus
– Two admission tickets per week for three hours to the StuBay adventure pool
– Free use of the Miederer swimming pool
– One ride per week on the Mieders summer toboggan run
– 30% discount on movie tickets at the Fulpmes cinema
– 30% discount on trips with "The Sightseer" bus in Innsbruck, rafting tours in the Stubai Valley, admission to the Airparc in the StuBay, admission to the ice grotto on the Stubai Glacier
– And much more. We will gladly update you!