Winter in the Stubai Valley promises unforgettable moments in a magical winter wonderland. With first-class ski resorts such as the Schlick 2000 and a variety of activities such as winter hiking, cross-country skiing, and tobogganing, there is certainly something for everyone.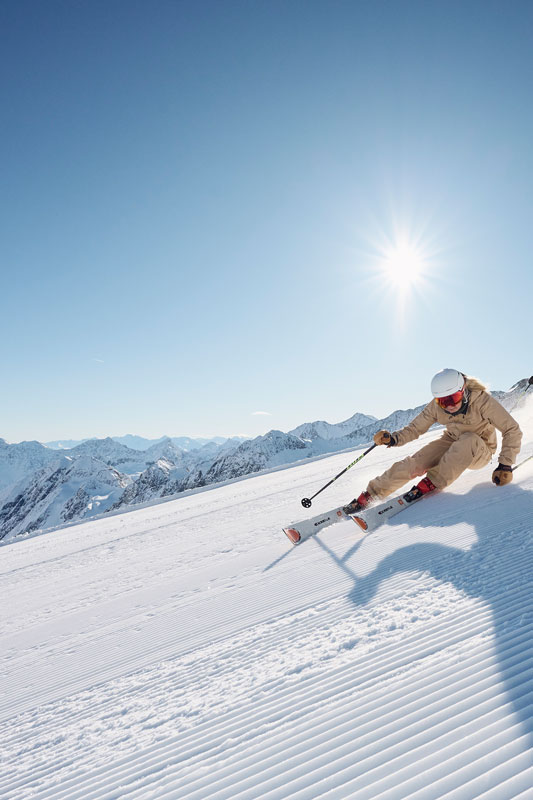 Ski courses and ski races
The "Stubai Tirol" ski school is your professional partner for winter sports. From private and group courses for children and adults to snowboard courses and cross-country skiing courses, you will find the best support here. Even the youngest children are welcome in the BIG FAMILY Winter World; and in Kinderland Froneben, children from the age of three learn to ski in a playful way. Our reception team will gladly advise you on booking a ski course. In addition to the ski courses, we also organize exciting ski races exclusively for our guests.
The Stubai Valley offers skiing experiences for everyone. With the largest glacier ski resort in Austria, the Stubai Glacier, and the diverse Schlick 2000 ski center right on our doorstep, skiers and freeriders get their money's worth.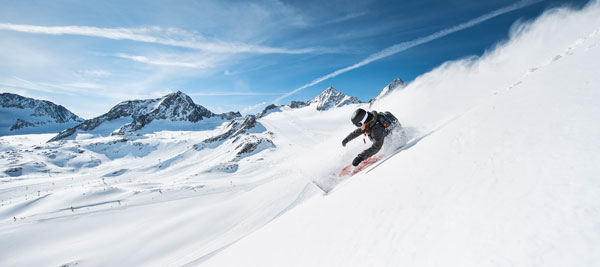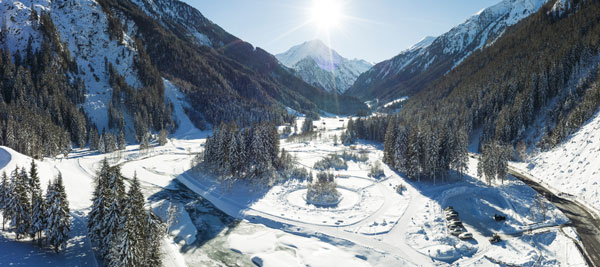 Cross-country skiing is becoming increasingly popular, and the Stubai Valley is practically made for this sport. With 130 kilometers (81 miles) of perfectly groomed trails, it offers cross-country skiers perfect conditions for exploring the unique landscape while either classic or skate skiing. The network of trails runs through almost the entire valley. You will also find breathtaking high-altitude trails in the Schlick 2000 and Hochserles areas as well as on the Stubai Glacier.
For tobogganing fans, there are a total of 12 runs in the Stubai Valley and plenty of rustic and cozy places to stop for refreshments. The toboggan run from the "11er" (Elfer mountain) through the Pinnis Valley to Neder is the longest natural toboggan run in Tyrol. For a special experience, we recommend experiencing the "11er" toboggan run under a starry sky.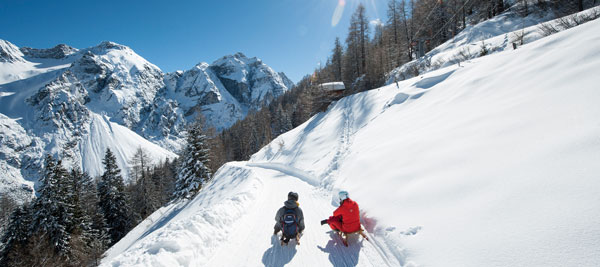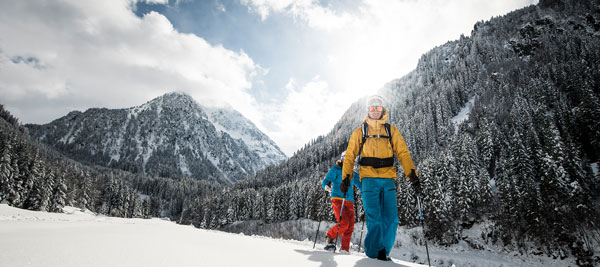 Winter and snowshoe hiking
From leisurely walks to challenging snowshoe tours, there are several ways to experience the winter landscape in Stubai. Over 80 kilometers (50 miles) of cleared winter hiking trails invite you to enjoy romantic walks. Away from the cleared paths, there are also many trails that are perfect for snowshoe hikes. We will gladly inform you on site about possible routes and guided tours.
Immerse yourself in the untouched beauty of the Tyrolean Alps as you climb the snow-covered peaks. Enjoy breathtaking views, pure nature, and the freedom to choose your own route. Whether you are a beginner or an experienced ski tourer, the Stubai Valley offers the perfect terrain for everyone.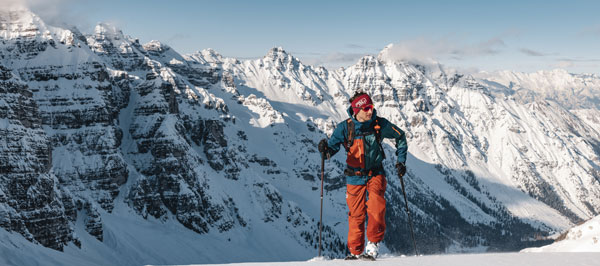 One for all, all for one.
Valid from December to April
The Stubai Ski Pass gives you access to all four ski resorts in the Stubai Valley. The Stubai Ski Pass is your ticket to unforgettable skiing fun on the Elfer, Schlick 2000, Serles, and Stubai Glacier.
Skiing on the local mountain
Valid for one to three days; open from November 25, 2023–April 7, 2024
The Schlick 2000 Card—your key to unlimited winter fun! With this card in your hand, the door opens to one of the most beautiful ski resorts in the Stubai Valley. Whether you are an experienced skier or a beginner, the Schlick 2000 Card offers adventures for every taste and ensures unforgettable moments in the winter mountain world.
13 ski resorts + exclusive city experiences
Available for booking from October 1, 2023–May 7, 2024
Tyrol is much more than just a stronghold for winter sports enthusiasts. And nothing proves this as well as the one-of-a-kind SKI plus CITY Pass Stubai Innsbruck. It is the perfect vacation companion for ultimate fun on the slopes, vibrant metropolitan flair, and versatile mobility.
Included services:
13 ski resorts:
Stubai Glacier, Schlick 2000 ski center, Axamer Lizum, Kühtai, Hochötz, Muttereralm, Bergeralm, Nordkette, Serlesbahnen, Elferbahnen, Patcherkofel, Rangger Köpfl, and Glungezer
Innsbruck Card with 22 services, such as free admission to the Swarovski Crystal Worlds, the Alpine Zoo, the Imperial Palace, and much more
Use of all ski bus systems and the Innsbruck Sightseers
Free admission to the Axams indoor swimming pools (once for a period of four hours), the Neustift leisure center, and the StuBay sauna and bathing paradise (indoor pool, once for a period of four hours)
25% discount on night rides on participating cable cars